• GENE PAUL
Son of legendary guitarist and inventor Les Paul, Gene spent his youth developing his engineering skills in the family studio. His career took off after joining Atlantic Recording Studios where he quickly became a world-renowned session engineer, mixing engineer and producer. He continues to turn out sonically superb recordings, garnering a Grammy for Roberta Flack's "Killing Me Softly" and 9 other Grammy Award-winning albums, with 30 total nominations in 15 different categories over his career. His credits include Led Zeppelin, The Rolling Stones, Eric Clapton, Crosby Stills Nash & Young, Paul Simon, Charles Mingus, Aretha Franklin, Ray Charles, Carole King, Bette Midler, Luther Vandross, U2, The Neville Brothers, Dave Brubeck, Max Roach, Buddy Rich, Diana Ross, Gladys Knight, Billy Taylor, Hall & Oates, Willie Nelson, Lou Rawls, Steel Pulse, En Vogue, Average White Band, Hugh Masekela, Bono, John Coltrane, Shirley Horn, Kurt Elling, Janis Siegel, Richie Havens, Jane Monheit, Leslie Mendelson, Norah Jones, and producers Ahmet Ertegun, Nesuhi Ertegun, Jerry Wexler, Tom Dowd, Arif Mardin, Quincy Jones, Bob Karcy, Maria Schneider and "Keep a Light in the Window " Joel Dorn.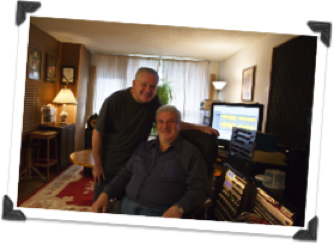 • JOEL KERR  
Founder and Studio Manager Joel Kerr opened G&J Audio (formerly DB Plus) in 1987. He envisioned a studio that was 'musician friendly', where the artist's music came first and based on his belief that professional audio services shouldn't cost the farm. It's a formula that has worked for everyone for over 30 years. A trumpet player in his youth, Joel ventured into the music world more than 45 years ago as an audio engineer at Atlantic Recording Studios. He has worked with legendary producers Nesuhi and Ahmet Ertegun, Jerry Wexler & Arif Mardin, and with artists including King Curtis, Steve Goodman, Cissy Houston & The Sweet Inspirations, Jan Ackerman, Gary Burton, Cornell Dupree, David Newman, Jerry Stiller & Anne Meara, Black Heat, Cactus, Hall & Oates, Danny O'Keefe, Donny Hathaway, Neil Rosengarden, Maggie Bell, Barnaby Bye, Margie Joseph, Herbie Mann, Sam Samudio, Les McCann, Oscar Brown Jr., Marion Williams, Doug Sahm, John Prine, Ramatam, Mongo Santamaria, Rahsaan Roland Kirk, Chris Brubeck and New Heavenly Blue, Yusef Lateef, Carly Simon, Aretha Franklin, Bette Midler, Keith Jarrett, Eddie Harris and Maxi Priest.
Interview
SHUT UP & LEARN -
THE AUSPICIOUS APPRENTICESHIP OF GENE PAUL
BY JOHN KRUTH
Gene's video tribute to his father....
Experience Makes The Difference