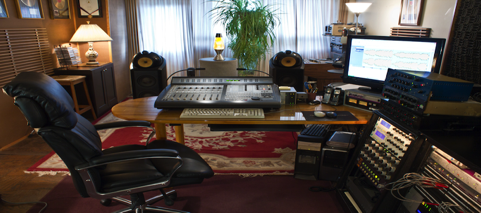 Mastering may include but is not limited to:
• Sonic Enhancement with EQ & other tools
• Dynamic Enhancement and Optimization
• Stereo Image Enhancement
• Sequencing, Spacing, Fades and Song Editing
• PQ, ISRC and Text Encoding with Verification
• Audio Restoration
Production Parts Include:
• DDP Master Files for CD Replication
• Digital Distribution Files for the Internet
• Vinyl Masters
• High Definition Audio Files
• Apple Digital Masters
• CDR Reference Discs
• HD AUDIOPHILE MASTER FORMAT •
These files contain no format conversions, are not compressed and represent the truest mastered sound of your original recording. It is a big file. If you have recorded at any resolution at 24 bit between 44.1kHz to 96kHz, we will provide you with a master at the same resolution, which doesn't lose the benefit of the extra bits and samples captured during recording. This HD file is Apple Digtal Master ready for uploading to iTunes and will supply better encoding into the latest iTunes codec.
If you desire changes to your mixes while keeping the original stereo balance that you like, stems are the way to go. Stems are the equivalent of your stereo mix broken down into several separate stereo tracks. You can provide us with up to 8 stereo stems, at zero fader level, that are the equivalent of your original stereo mix along with the original stereo mix for comparison. This is an affordable method to have your song fine-tuned at a fraction of the cost of remixing.
• REFINING YOUR MIX USING STEMS •
Virtual On-Line Attended Mastering Session: - $100 Per Hour
Online Mastering from Stems - $75 Per Song
Includes up to 1.5 hours of update time per project, not including client supplied new mixes.
Additional Update Time - $50 Per Hour
Additional Versions and Additional Version Updates- $50 Per Hour
Songs, including additional versions, longer than 8 minutes add an extra $5 per minute
Rush Service (When Available) - Add 25%
CD Reference Discs - $5 Each
DDP Master Files for CD Replication:
TO BOOKING FORM & FILE UPLOADS
Today, mastering has evolved into two categories:
the traditional stereo mix and multitrack stems or separations. While stems require more preparation on your part, they give us greater mastering flexibility by allowing access to the individual vocal and instrumental tracks. So let our team work for you. We offer both convenient online sessions and virtual on-line attended sessions for real time collaboration with your engineer.
GENE'S VIDEO TRIBUTE TO HIS FATHER, LES PAUL.
Experience Makes the Difference
1 - Song - $50
2 - Songs - $100
3 - Songs - $145
4 - Songs - $190
5 - Songs - $235
6 - Songs - $265
7 - Songs - $295
8 - Songs - $325
9 - Songs - $355
10 - Songs - $385
16 - Songs - $565
17 - Songs - $595
18 - Songs - $625
19 - Songs - $655
20 - Songs - $685
11 - Songs - $415
12 - Songs - $445
13 - Songs - $475
14 - Songs - $505
15 - Songs - $535
Telephone:
Voice: 201-766-1520
E-mail:
info@gandjaudio.com
MASTERING SERVICES
It is the client's responsibility to listen & to approve the final master.

Based on the number of songs to be mastered, please submit a 50% deposit of the estimated total from the rate box above, fill out the Booking Form and send your files by clicking the button below.
We cannot start your project before receiving the Form and deposit.

Experience Makes The Difference